The town of Melgaço in the north of Portugal, like many other places in Europe, has welcomed refugee families from Ukraine.
Elsa Canario, one of the founder members of Bracelets and Peace, whose language school is in Melgaço and has been organising support for both local Ukrainians and Ukraine, tells us about Farmacia Vale do Mouro.
"When I told  Drª Isabel Maria Rodrigues Marques about our project , it didn't take long at all for her to create a space at her Chemist to help Ukraine by displaying and selling our bracelets."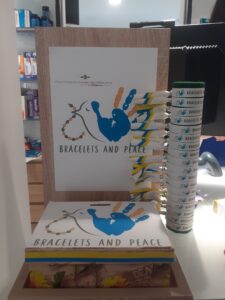 Thank you to all the staff : Drª Ana Claúdia, Drª Liliana, Dr. Ricardo, Ana Rafaela and Fernando for your precious help in selling Bracelets and Peace.
Together we can help and make a difference.
Another wonderful Helping us story that we are delighted to share with you.